I was telling the story of MCHG and my career to a person close to me. I mentioned how tough it was, but how I learned so much.
I went through a bankruptcy of the former owner of the Freeport Inn, went through a purchase of the same hotel to Peter and Paul, survived a recession in the nineties, made it through 9/11 followed by another recession. We weathered the storm of divesting of our restaurants and those great people, another recession, to lead us to these good times.
But what I learned most, is that we can weather storms when we hold on to our values and beliefs.  Integrity, Respect, Family and Fun are what allowed Maine Course to survive in tough times and prosper in the good.
Shoot, this Front Office Manager believed and had the sticktoitiveness to become President.
circa 1994 at the Freeport Inn Office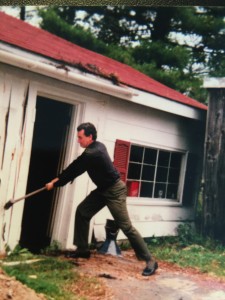 Believe in yourself!  Live your values and you too will have a great future!