Kim Dennis GM of the Scarborough Homewood Suites was the recipient of the prestigious Heart of Homewood Award, only the second one to ever be awarded.  Rick Collings, Global Brand Leader, and Joe Fransciso, Director of Homewood Suites Brand were present to honor Kim and her team.
The Award reads:
Dear Kim
Everyday, somewhere across our portfolio, members offer Homewood Suites Family remind us through their actions of amazing people who are the Heart of the brand.
Remarkable as they may be, there are those whose professionalism and grace stand above the rest, truly demonstrating the best of us.
You, as General Manager of the Homewood Suites Portland, ME, deserve such recognition.
On behalf of the Homewood Suites brand, it is my honor to convey the heartfelt gratitude we feel, and the special recognition you deserve, by way of this certificate.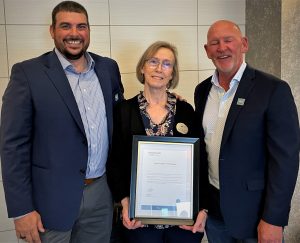 Congratulations Kim!